A Comprehensive Guide on Landscaping
If you are looking for a comprehensive guide on landscaping, you have come to the right place. Visit the website to learn more about trees and shrubs, paths to plan and plant, and maintenance.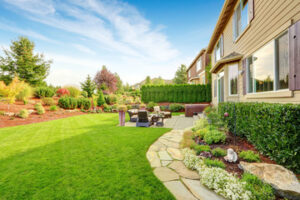 When landscaping, it's important to choose the right plants. The wrong plants may lead to an unsightly landscape.
You should first consider how your particular environment, climate, soil type, and site conditions impact the selection of plants. Plants have the potential to create windbreaks, block out noise, and even attract specific wildlife. They also provide edible fruit, shade, and shelter.
In general, landscaping is low maintenance and is meant to improve the look and feel of a property. However, there are exceptions to the rule. Selecting the best plant for a particular site requires an organized process and filtering through the myriad selections available.
A great plant for a landscaping application is the elephant ear. These vines grow horizontally, vertically, and in the ground. Their colorful and contrasting foliage is a great way to add color and texture to a garden.
Another option is a water feature, such as a pond or fountain. Some aquatic plants stay underwater, and others grow along the edges of streams and rivers.
Woody ornamental plants such as shrubs, trees, and ground covers can also be incorporated into a landscaping design. Choosing these types of plants for your landscape plan involves the same considerations as choosing any other plant, such as size, maturity, and soil type.
To properly select the "right plant for the right place," you should start by creating a list of plants that you like. Next, take a walk around your neighborhood and see what the neighbors are planting. If you have neighbors with a good-sized yard, you might be able to acquire some extra perennials or flowers from them.
Finally, it's important to consider horticultural practices such as fertilization, pruning, and irrigation. By following these techniques, you can ensure the long-term beauty and health of your plant-based landscaping.
Despite their obvious value, selecting the best plants for your property may prove a challenge. This is especially true if you live in a dry region or a hot climate.
Choosing the right plant for the right spot isn't just the simplest – it can be the most crucial. Taking the time to pick the best plant for your location, climate, and soil conditions will help make the most of your landscape and improve the value of your home.
When designing a garden, paths are an essential element. They create a transition from one area to the next and serve as a way to bring cohesion to the landscape.
Paths can be constructed with different materials. Some materials are better suited for DIY projects, and others are best left to professionals. The key is to choose the right material for the job.
Paths can be made of a variety of materials, such as brick, gravel, pebbles, and stepping stones. This makes it important to test out various combinations in the garden.
Paths should have a focal point. A bird bath, bench, or other feature will help the path stand out from the crowd. You can also add small trees or plant a flower bed to draw attention to the area.
Paths are functional, but their main function is aesthetic. A well-designed path should draw visitors to your garden by beckoning them to the next vista.
One of the simplest and most effective ways to do this is with outdoor lighting. Not only does this make your path more visible, but it will also prevent your garden from turning into a muddy mess.
Other garden elements to consider include beds and borders. These are the perfect place to display your favorite flowers or show off a piece of artwork. Also, consider how wide your paths need to be. Wide paths are easier to walk on and can provide a more comfortable experience.
While there are no set rules when it comes to paths, there are a few simple things to keep in mind. Most importantly, paths should be at least arm's length away from walls and obstacles.
Another trick is to design pathways that have a circulation pattern. This allows visitors to travel from the front of your house to your back garden without tripping over the grass along the way. There are several ways to do this, such as with a series of stone chips or limestone slabs arranged into your lawn.
For the best results, consult a landscape architect or contractor for advice. These people are experienced in creating gardens of all sizes and can advise you on the right paths for your needs.
landscape designs
landscaping approaches
landscaping equipment
landscaping guide
landscaping services
landscaping techniques
leaf vacuum